New Listing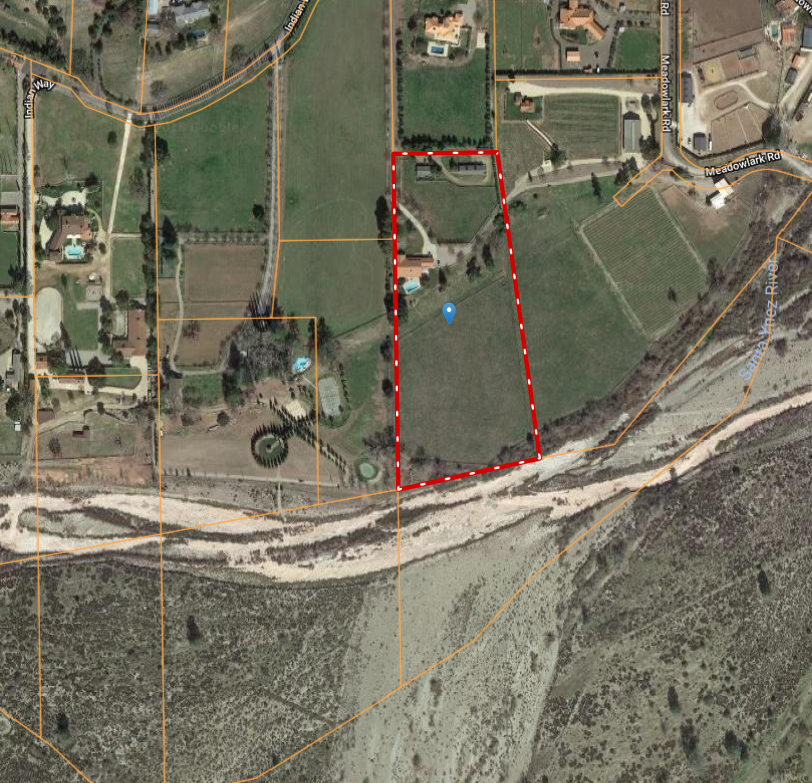 4080 Indian Way, Santa Ynez (main house, full guest house and barn on 20.64 acres) $2,600,000 Two parcels totaling 20.64 acres. River front acreage which is rare indeed but the real show stopper is all this flat land and still views to die for. Superior location in Meadowlark Ranch. Horse people and privacy seekers are gonna love this one. I created the areal above to show proximity to the river bottom.
New Listing
5010 Baseline Avenue, Santa Ynez (main house + guest house on 5 acres) $1,689,000 Rancho Estates has some of the least expensive community water in the valley.
Rental
447 Pheasant Canyon Court, Buellton $3,500
Under Contract
269 Glennora, Buellton (3/2 on .28 of an acre) 595K This is a listing in my own inventory. I had a lot of calls on this one after the price dropped from 625K. Price reductions do work.
Under Contract
633 Lillebakke Court, Solvang (4/4 on .22 of an acre) 799K
Under Contract
1711 Ballard Canyon, Solvang (4/2 on 5.36 acres) $1,199,000 On my favorites list. A very good value.
Sold
365 St Joseph Street, Los Alamos (3/3 on .11 of an acre) Listed at 579K and sold final for 560K.
Off Market
**Click on each hyperlink to see the listing office related to each property. Property links may not open if you are using Internet Explorer as your browser. Transactions noted here were completed by myself and other Realtors. I clearly identify those that I participated in. The hyperlink to each listing shows the listing office name if you would like to contact them directly. If you aren't already, please ask to be on my Daily Real Estate Update email list to receive the complete blog post with pics and aerials sent to you daily via email versus you having to remember to check my website or Facebook. Due to recent copyright issues, pics only appear on the email version. The identity of those on my list is not shared and I don't spam anyone. My daily updates are not a complete list of everything that happened today but instead events the general reader might find interesting or items you need to know to make good decisions. Readers should consult other venues of information gathering to find out more or to complete their information gathering efforts but this is a great place to start and I write every day Monday through Friday letting you know what I know.
Sharon Currie | Realtor DRE#01357602
Berkshire Hathaway Home Services BRE#01317331
Physical: 2933 San Marcos Ave #102, Los Olivos
Mailing: P O Box 778 Los Olivos CA 93441
p: 805.448.2727 f: 805.233.6461
e: sharon@sharoncurrie.com
w: Daily Blog www.sharoncurrie.com
Visit me on Facebook https://www.facebook.com/SYVRealEstate/
Read My Zillow Reviews by Clicking Here
Wire Fraud Advisory: Never wire money to a source you have not confirmed verbally with the recipient. Wiring instructions will never be sent by me. Only accept them from a reliable confirmed source.