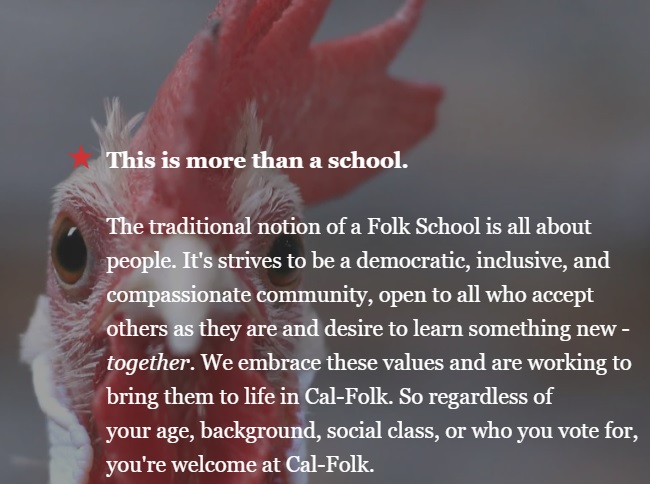 I found out about this super cool education program based out of Los Alamos. For those of you, like me, that haven't heard of the California Folk School, check this out. I learned about it through a Facebook group that I started and admin (Santa Ynez Valley & Nearby Backyard Gardens). Fortunately the Hootens posted in my group and their program became something I am super excited about and happy to bring to my readers. I already signed up for the canning class, Birds and Breakfast (can't wait for that one) and soap making. When they get the date set for cooking over coals, I'm doing that too. I have heard the leather stamping, wood working and blues guitar classes are going to be great too so there is something for everybody. Darn it, I just missed the backyard chicken class though I am not a newbie at that but you can always learn something. These classes are designed especially for newbies so you can come and not feel like a 5th wheel and you don't have to be a local either. Everyone will be a newbie! I hope to see some of you there! Here is the website. Click on the Classes link.
Its going to be fun!
New Listing
67 Pepperwood Way, Solvang (3/2 on .24 of an acre) 719K Pepperwood is that last cul de sac along Fjord. This is significant because the farther you go, the less traffic there is. And Fjord is already not heavily traveled. Add to that Fjord frontage onto the greenbelt and river and you have a pretty nice location for the money. Its very quite down here but extremely convenient to everything. You can even walk to the River Grill or into town if you wanted to. You can zip out to the 101 via Alisal if you wanted and its a very pretty drive. Some nice upgrades in this 1980's home including a very pretty newer kitchen. The easy care back yard sports a generous covered patio with built in barbeque in addition to the larger uncovered patio with fire pit and the storage shed. Its a nice little package. Turn the key, move in.
New Listing
3674 Robin Place, Santa Ynez (3/2 on .46 of an acre) 741K If you haven't been over to this section of Santa Ynez, you'll be wondering exactly where Robin is because homes over here don't come up for sale all that often. This is in the section of town off of Meadowvale. See the aerial which shows the location right on the corner of Robin and Meadowvale which abuts the currently huge vacant ranch parcel. Many people enjoy walking the length of Meadowvale as it really is a beautiful lane with picturesque views. Almost 1900 square feet in this 1963 built home. I adore the hammered copper sink and open concept which is rare in a home built in the 60's. A lot of work has been put into this home. Here is one more home in the 7's that is turn key move in ready.
Price Reduction
3085 Horizon, Santa Ynez (3/2 on .91 of an acre) Was 789K with a new price of 759K. Good reminder of this really great project property. Very good location and a new septic tank being installed. Those wanting to build should take a look at this one because perhaps a remodel is more your speed. Fixer with a future!
Price Reduction
1043 Ladan Drive, Solvang (4/5 on 7.88 acres) Was $2,850,000 with a new price of $2,639,000. I've seen a lot of houses up here on the hill but I have to say, so far this is one of my very favorites. It has the one ingredient that a property must have to make my all time favorites list. Quality. Not just fancy counter tops either. This place was built right from the ground up in 1998 and then remodeled in 2008. Everything, every surface, doorway, flooring, windows, plaster, ceiling treatments, roof .... it just feels right and strong. You walk in and can feel it. Quality. Beyond that, I love the floor plan, the color palette, the views and natural light where it counts. It is sumptuous but not obnoxious. Impressive yet casual. A statement property that is welcoming. Good location on the ridgeline side of Ladan with exceptional views. If you are shopping in the two's and looking for something more upscale and less horsey (though there is room for horses or a pool), you should check this one out. Class in the country.
Price Reduction
2648 Stag Canyon, Santa Ynez (main house + guest complex with party room and two apartments on 9.97 acres) Was $2,995,000 with a new price of $2,695,000. Now that's what I call a price reduction. There is a lot here for money. 4200 square foot single story main house, 2400 square foot guest complex which has a huge party room and two guest apartments, acres of lush landscaping, fantasy pool and water feature, tremendous views and a super convenient location not too far in the canyon. In fact, Stag Canyon is one of my favorite streets because its peaceful and ranch like but still close to Roblar. It has a ton of character and is definitely one of a kind. Check out the cool artistic wood ceilings, the stacked stone, the pool and water way. The party room is a wonderful space and the guest apartments are really well appointed already. It would cost a small fortune to replicate everything that is in and on this property today, even if you had the vision to do so. This one will work well for full or part time, for those wanting a place to have fun, compound living, rustic ranch living or just some peace and quiet in your life with a high degree of privacy yet no compromise on convenience. Love this home as is or spice it up later but any way you cut it, at this new price, it is a very good value in the private ranch community sector.
Sold
1221 Olesen, Solvang (3/3 on .27 of an acre) Listed at 869K and sold final for 837K.
**Click on each hyperlink to see the listing agent related to each property. Property links may not open if you are using Internet Explorer as your browser. If you aren't already, please ask to be on my Daily Real Estate Update email list to receive the complete blog post with pics and aerials sent to you daily via email versus you having to remember to check my website or Facebook. Due to recent copyright issues, pics only appear on the email version. The identity of those on my list is not shared and I don't spam anyone. My daily updates are not a complete list of everything that happened today but instead events the general reader might find interesting or items you need to know to make good decisions. Readers should consult other venues of information gathering to find out more or to complete their information gathering efforts but this is a great place to start and I write every day Monday through Friday letting you know what I know. Transactions noted here were completed by myself and other Realtors.
Sharon Currie | Realtor BRE#01357602
Berkshire Hathaway Home Services BRE#01317331
Physical: 2933 San Marcos Ave #102, Los Olivos
Mailing: P O Box 778 Los Olivos CA 93441
p: 805.448.2727 f: 805.233.6461
e: sharon@sharoncurrie.com
w: Daily Blog www.sharoncurrie.com
Visit me on Facebook https://www.facebook.com/SYVRealEstate/
Read My Zillow Reviews by Clicking Here
Wire Fraud Advisory: Never wire money to a source you have not confirmed verbally with the recipient. Wiring instructions will never be sent by me. Only accept them from a reliable confirmed source.