Today was a travel day and includes yesterday, Monday 6/19 and today 6/20. I made the return trip today so I'm finally back on the central coast just in time to avoid 100+ degree weather in the Sierra's. Good timing on my part. :) One of the reasons I settled on Penn Valley CA as a place to buy a second home, besides the fact that I already own a home in the best place in California right here in the SYV so had to pick second best, is PV has this amazing walking, biking/horse back riding trail that goes through the little town from down town and all the restaurants etc. to one of the best natural parks and off leash dog parks in the state and also the rodeo grounds. I can ride my horse to the arena. I can drive my golf cart to breakfast. It is amazing to watch how many adults and children make use of this path every day all year long. Sure I had to give up a little dirt as did my neighbors but the result is a community asset so well loved and used by all, it was totally worth it for all the neighbors along here who gave up a little road frontage to make it happen. I remain hopeful the SYV will make a long path joining our contiguous communities a reality some day. Ventura and Ojai are a wonderful example of how to do just this (see the article on that here). The SYV would be even more perfect if we had the same community asset. I'm hopeful enough people will get together to make something like this possible in the SYV one day. Here is a photo of the trail right in front of my house up north. Well loved by all.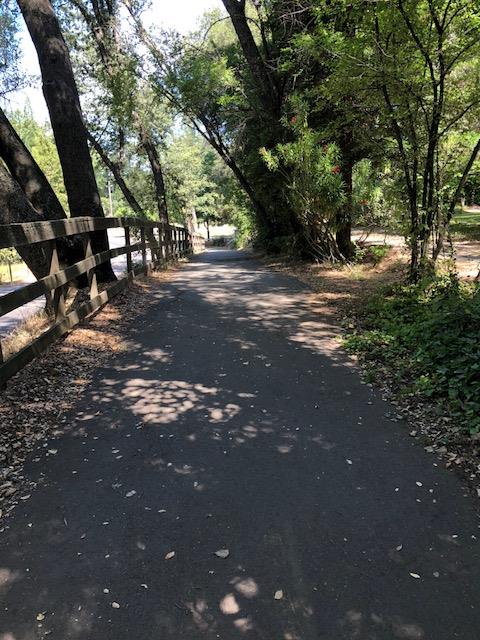 New Listing
440 Sycamore Drive, Buellton (5/3 on .17 of an acre) 755K This is the model with over 3,000 square feet and a loft upstairs. Directly across the street from Oak Park for the little ones and the school grass yards beyond. This is a very well manicured convenient street in Sycamore Ranch. A lot of square footage for the money.
Under Contract
235 W Hwy 246 102, Buellton (3/3 condo) $419,757
Under Contract
1929 Alamo Pintado Road, Solvang (4/4 on 10+ acres) $2,595,000 Only 19 days on market during this listing period.
Sold
373 Kendale Road, Buellton (3/3 on .27 of an acre) Listed at 659K and sold final for 645K. On the higher end of pricing in Thumbelina but this one does have more bells and whistles than the average home in here. Many upgrades already done, added space, pool, two car garage PLUS a 6 car additional garage. Only 18 days on market during this listing period.
Sold
1210 Deer Trail Lane, Solvang (4/3 on .90 of an acre) LIsted at 810K and sold final for 795K. Original price was 829K with 123 days on market. Nice flat acre and solid house with a lot of possibility. Homes in Santa Ynez Oaks, while having a Solvang address, enjoy the more economic Santa Ynez Water District water rates. As a point of interest, the HOA in this community was dismantled some years back.
**Click on each hyperlink to see the listing agent related to each property. Property links may not open if you are using Internet Explorer as your browser. If you aren't already, please ask to be on my Daily Real Estate Update email list to receive the complete blog post with pics and aerials sent to you daily via email versus you having to remember to check my website or Facebook. Due to recent copyright issues, pics only appear on the email version. The identity of those on my list is not shared and I don't spam anyone. My daily updates are not a complete list of everything that happened today but instead events the general reader might find interesting or items you need to know to make good decisions. Readers should consult other venues of information gathering to find out more or to complete their information gathering efforts but this is a great place to start and I write every day Monday through Friday letting you know what I know. Transactions noted here were completed by myself and other Realtors.
Sharon Currie | Realtor BRE#01357602
Berkshire Hathaway Home Services BRE#01317331
Physical: 2933 San Marcos Ave #102, Los Olivos
Mailing: P O Box 778 Los Olivos CA 93441
p: 805.448.2727 f: 805.233.6461
e: sharon@sharoncurrie.com
w: Daily Blog www.sharoncurrie.com
Visit me on Facebook https://www.facebook.com/SYVRealEstate/
Read My Zillow Reviews by Clicking Here
Wire Fraud Advisory: Never wire money to a source you have not confirmed verbally with the recipient. Wiring instructions will never be sent by me. Only accept them from a reliable confirmed source.