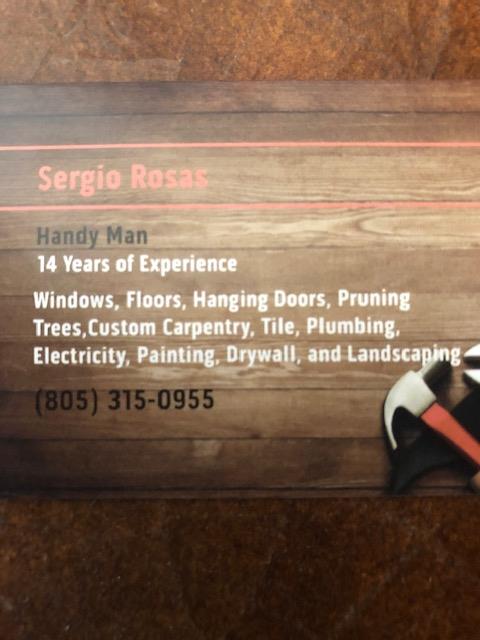 On the recommendation of a client that has very high expectations of quality and accountability, I called Sergio Rosas today as I need a landscaper and a few things done around the house. I was impressed from the get go. For one, he actually answers his phone and replies to texts. A miracle! Then, he made an appointment with me and actually showed up ... on time! He gave me an estimate on the spot versus days later or never. Very smart, well spoken, has great ideas and is self running plus he's a really nice person. If you are looking for a jack of all trades, Sergio is your guy. Give him a shout. If you do, please let him know I sent you.
In an email today, Guy Rivera at Guarantee Mortgage said "rates are GREAT"!. Click here for his rate sheet for today.
New Listing
2353 Henning Drive, Los Olivos (3/2 on 1.02 acres) $1,075,000 An informational property booklet is available upon request. Also see the property website at www.2353Henning.com. As with all our listings, a floor plan is a standard part of the photo gallery. Sharon: This is a new listing in our own inventory! Love it as is or make this your mini makeover worth doing. I really love the location of this property. Henning is a little known though walking distance to town street. Just stroll right in. Last house on the left as Henning abuts the creek. A full flat acre + with that lovely creek side privacy buffer. Built in 1980, the makings of newer style construction are here with really high ceilings, open concept and tons of natural light. The synergy of the living room, family room, dining and kitchen are perfect for how we live today. The acre has some nice points too with a flagstone patio, Santa Maria style BBQ and a fruit orchard with a ton of apricots just waiting to be eaten or turned into jam. This is a mini fixer with a big future and in a fabulous sought after location that makes this one definitely worth doing. They say most of the good parcels are already built on and that may be true which makes remodeling an existing home a great option and probably less expensive too. Open this Saturday from 1:00 to 4:00 (one of us will be there but right now I don't know which one). Also open next Tuesday for caravan 10:00 to 12:00. Come on by! Nina: With the location of this property and its' proximity to town, it's a no brainer. The home is surrounded by mature vegetation and plenty of space for outdoor living. I have a feeling this will be a tremendously fun and rewarding project for someone. Listed by us!
Price Adjustment
2000 Santa Rita Road, Lompoc (3/2 on 41 acres) Was $1,579,000 with a new price of $1,450,000. Yes, that's 41 acres, not 21 or 11. Drive a little, save a lot. This corridor is capturing the hearts and growing plans of many so check it out. Google says 10 miles to Albertsons in Buellton. This is a heavily agricultural area with large parcels being the norm. Listed by Todd Ranney of Remax.
Sold
203 Valhalla Drive, Solvang (3/3 on .42 of an acre) Listed at $1,060,000 and sold final for $1,040,000. Only 40 days on market with no price reductions, settling at about 98% of list price. Listed by Jeane Johnson of Village Properties.
**Click on each hyperlink to see the listing office related to each property. Property links may not open if you are using Internet Explorer as your browser. Transactions noted here were completed by myself and other Realtors. I clearly identify those that I participated in. The hyperlink to each listing shows the listing office name if you would like to contact them directly. If you aren't already, please ask to be on my Daily Real Estate Update email list to receive the complete blog post with pics and aerials sent to you daily via email versus you having to remember to check my website or Facebook. Due to recent copyright issues, pics only appear on the email version. The identity of those on my list is not shared and I don't spam anyone. My daily updates are not a complete list of everything that happened today but instead events the general reader might find interesting or items you need to know to make good decisions. These informational items are also readily available on a variety of other sites. Readers should consult other venues of information gathering to find out more or to complete their information gathering efforts but this is a great place to start and I write every day Monday through Friday letting you know what I know. I will NEVER send you a request to wire money. If you ever receive a request from me to wire money, it is a scam. Do not reply to it but do forward it to me at scurrie@bhhscal.com for further investigation by our company tech staff. Real estate related wire fraud is rampant worldwide.
Sharon Currie Realtor License #01357602 805.448.2727 scurrie@bhhscal.com
Nina Stormo Realtor License #01341678 805.729.4754 ninastormo@bhhscal.com
Berkshire Hathaway Home Services BRE#01317331
Physical: 2933 San Marcos Ave #102, Los Olivos
Mailing: P O Box 778 Los Olivos CA 93441

w: Daily Blog www.sharoncurrie.com
Visit me on Facebook https://www.facebook.com/SYVRealEstate/
Read Zillow Reviews by Clicking Here
Wire Fraud Advisory: Never wire money to a source you have not confirmed verbally with the recipient. Wiring instructions will never be sent by me. Only accept them from a reliable confirmed source.