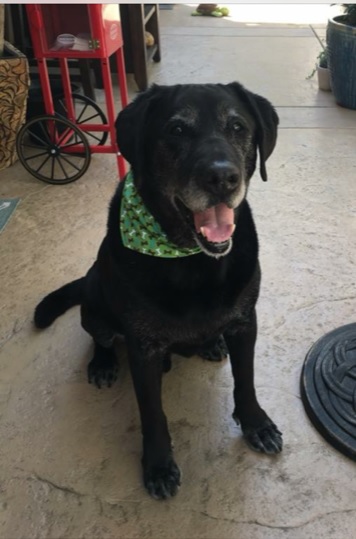 Ok so its been a long time since I plucked at the heart strings of my peeps out there but this guy is really special and needs a home. And yes I'm well aware this has nothing to do with real estate except that every home needs a dog. Like, every single one needs a dog, especially here in the dog friendly SYV. A home isn't a home without unconditional love and dog hair under the tape on all the Christmas presents you give to other people. I'm fostering this wonderful senior black lab. His name is Luke. He is love on four legs. This photo says it all. A more loving, forgiving, dedicated and loyal companion you will never find. I've been fostering him for 3 days and he is already a well loved temporary addition to our family. Good with other dogs (zero ego), has a healthy respect for cats and avoids them, loves kids, is completely potty trained, does not dig or chew, loves to play fetch and rides nicely in the car. Why yes, he is perfect! Seriously, he's a gentle old soul with plenty of get up and go left. Luke was dumped in Lompoc near the Mission and a kind person called animal services to pick him up. He stayed in the shelter for a few days but nobody came to claim him (classic dumped dog scenario). Time passed and Luke wasn't doing well in a shelter environment and I know why. He loves people. He loves following his people around (yes, even the bathroom). All Luke needs is a home to call his and some humans to give him the love he will unconditionally return ten fold. If you have room in your home and heart for this handsome, fun loving and deserving furry friend, I invite you to get in touch with me. Luke is a treasure.
Here is your weekend ending rate update from Guy Rivera at Guarantee Mortgage. Click here for the rate sheet. Check out the open houses this weekend by clicking here. I'll be at two of them with 645 Floral Drive in Solvang priced at 425K open both days Saturday and Sunday 2:00 to 4:00. Come on by! I'll be back Monday with all the news. Have a great weekend!
New Listing
2895 Alta, Los Olivos (4/2 on .24 of an acre) 815K On the preferred or town side of Alta, this is on the corner of Alta and Alamo Pintado for a direct conduit to everything in LO.
New Listing
2045 Highway 154, Santa Ynez (barn on 20 acres) $1,895,000 I saw this one on Zillow today. Its not on our MLS yet but Zillow is already carrying it so I'm adding it in here in case you don't get Zillow updates. Huge barn on a flat 20 acre parcel. I sold the property next to this one a few years back. This particular parcel is pretty far off the highway so don't let the address determine whether you see it or not. There is quite a lot of land and structures between this one and the highway but the location does make access to everything very easy. All those people out there that have been dreaming of that big old barn they could convert to a cool modern farmhouse should take note.
Under Contract
235 Centennial, Los Alamos (4/3 on .22 of an acre) 600K Two units with one being around 100 years old. The other unit is newer. Zoned mixed use which is a plus given where Los Alamos is going these days with all the new building. Just one parcel in between it and the Bell St. commercial corridor.
Sold (quite a few for one day)
2106 Creekside, Solvang (4/3 on .30 of an acre) Listed at 719K and sold final for 695K. Personally I really liked this home. Its a little different than many others here in Creekside and had unique angled siting on the lot. 44 days on market.
2077 Holly, Solvang (3/2 on .28 of an acre) Listed at 737K and sold over that at $742,077. 3 days on market.
473 Dove Canyon, Buellton (4/4 on .20 of an acre) Listed at 749K and sold final for same, 749K. This is a lot under roof for the money at over 3200 square feet. Buellton does it again on value. 40 days on market.
705 Mesa Drive, Solvang (4/4 on 3.7 acres) Listed at $1,595,000 and sold final for $1,425,000. One of my personal favorites. 70 days on market. Original price was $1,695,000.