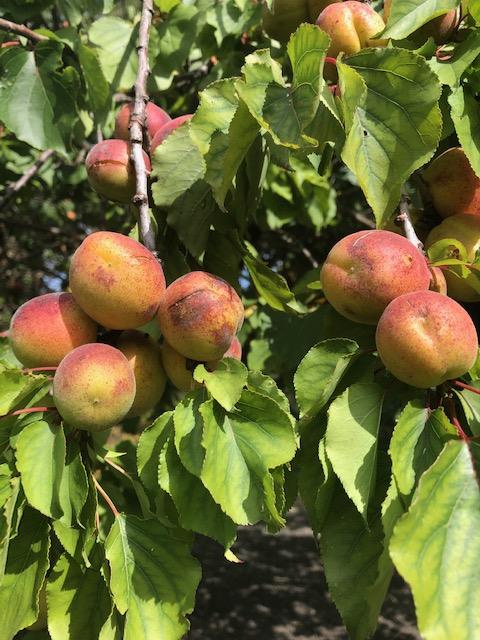 Here is a sneak peak at some beautiful apricots just now ripening at Nina and I's new listing at 2353 Henning Drive in Los Olivos. Photographer came today. Will take a couple of days to get this under way. Plan on seeing pics for this diamond in the rough about Thursday. The very last house on the left on Henning, nestled directly along the creek on a full acre, this mini makeover has all the ingredients for a beautiful and worthwhile project. Great bones here and its likely no walls have to be moved to make it work. This, for many buyers, is just a cosmetic makeover with some landscaping for added enjoyment. The location can't be beat and you get a whole bunch of free apricots too! Give or take 2,000 square feet, single story, tall ceilings, flat and usable parcel, end of the lane privacy, easy walk to downtown. $1,075,000. Sneak peak showings are encouraged. Also open this weekend on Saturday. Call us.
New Listings (2)
1469 Aarhus Drive, Solvang (4/2 on .17 of an acre) 698K Nina: Another great deal. I'm excited to see this one in person tomorrow! From what I understand, it has very nice updates throughout. Listed by Jeannie Hollingsworth of Douglas Elliman.
351 Valley Dairy Road, Buellton (4/2 on .16 of an acre) 695K Sharon: On the Sycamore Ranch school side of Valley Dairy, not the Meadowridge big park side, in the block between highway 246 and 2nd street for easy in and easy out. Commuters dream with the 101 being an easy jet down the street. Immaculate home with the floor plan that offers a nice family room and kitchen combo in addition to the living room. I like the covered front porch in this model too. Nina:Nice open floor plan in a very pretty Buellton home, and a great price point to boot. This home has four bedrooms, which isn't easy to come by in the price range, and at over 2300 square feet, the price per square foot is really attractive. Listed by Barbara Neary of BHHS.
Price Adjustments (3)
3620 Montebello Street, Santa Ynez Was $948,500 with a new price of $939,900. Listed by Jodi Williams and Jose Uriarte of Coldwell Banker.
624 Hillside Drive, Solvang Was $867,500 with a new price of 825K. Listed by Susan Beckmann of Sothebys
642 Aqueduct Way, Solvang Was 719K with a new price 685K. Listed by Susan Beckmann of Sothebys.
Under Contract (1)
371 Beech Court, Buellton (3/2 on .18 of an acre) 679K Nina: I was actually surprised this one stayed on the market as long as it did. I love this location, close to the school and parks. The house also has some really nice updates in the main living space. Listed by Lynette Naour of Village Properties
Sold (3)
1776 Still Meadow Road, Solvang (5+ acre, land only, across from 1775 Still Meadow below) Listed at 795K and sold final for 575K which is about 72% of current list price with 262 days on market.. Original price was 895K so sales price is about 64% of original list price. Listed by Cary Kendall of Village Properties.
551 Ballard Canyon Road, Buellton (4/3 on 4.52 acres) Listed at $1,395,000 and sold final for $1,222,036. Residential ranchette use now but with zoning that could accommodate multiple single family homes. Listed by Laura Drammer of BHHS.
1775 Still Meadow Road, Solvang (main house and guest house on 5+ acres) Across the street from the Still Meadow parcel listed above. Listed at $4,465,000 and sold final for $4,325,000. Original price $5,250,000 so about 83% of original price and about 98% of current list price. 427 days on market. Listed by Carey Kendall of Village Properties.
**Click on each hyperlink to see the listing office related to each property. Property links may not open if you are using Internet Explorer as your browser. Transactions noted here were completed by myself and other Realtors. I clearly identify those that I participated in. The hyperlink to each listing shows the listing office name if you would like to contact them directly. If you aren't already, please ask to be on my Daily Real Estate Update email list to receive the complete blog post with pics and aerials sent to you daily via email versus you having to remember to check my website or Facebook. Due to recent copyright issues, pics only appear on the email version. The identity of those on my list is not shared and I don't spam anyone. My daily updates are not a complete list of everything that happened today but instead events the general reader might find interesting or items you need to know to make good decisions. These informational items are also readily available on a variety of other sites. Readers should consult other venues of information gathering to find out more or to complete their information gathering efforts but this is a great place to start and I write every day Monday through Friday letting you know what I know. I will NEVER send you a request to wire money. If you ever receive a request from me to wire money, it is a scam. Do not reply to it but do forward it to me at scurrie@bhhscal.com for further investigation by our company tech staff. Real estate related wire fraud is rampant worldwide.
Sharon Currie Realtor License #01357602 805.448.2727 scurrie@bhhscal.com
Nina Stormo Realtor License #01341678 805.729.4754 ninastormo@bhhscal.com
Berkshire Hathaway Home Services BRE#01317331
Physical: 2933 San Marcos Ave #102, Los Olivos
Mailing: P O Box 778 Los Olivos CA 93441

w: Daily Blog www.sharoncurrie.com
Visit me on Facebook https://www.facebook.com/SYVRealEstate/
Read Zillow Reviews by Clicking Here
Wire Fraud Advisory: Never wire money to a source you have not confirmed verbally with the recipient. Wiring instructions will never be sent by me. Only accept them from a reliable confirmed source.