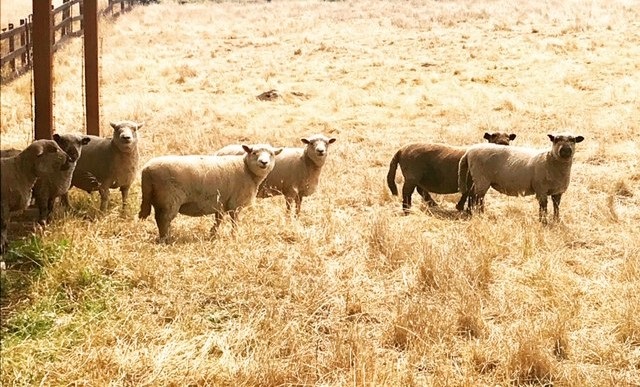 Sharon: Nina and I saw this handsome band of happy Baby Doll sheep while on site at a new amazing listing we have coming down the pike in the next month or so. For those of you that want new, currently trending and swanky, this one will totally rock your socks off. Close to downtown Ballard and walking distance to all the cool stuff happening there, this ranchette on just under 5 usable acres is currently under major remodel construction so not ready to share with you in print yet but we did want our readers to know about it first. In around 2800 square feet with open and airy spaces, beautiful views and a modern neutral color palette, 3 bedrooms and 2 baths in the main portion plus a full 1 bedroom and 1 bath separate suite off of the garage present themselves in a floor plan that lives easy but delivers a lot of wow factor. I can say after our walk through today, everything this experienced builder and his team are doing is spot on. Colors, surfaces, amenities, decking, style, views, fabulous barn for horses or is even car collection or party barn worthy ... it is really special. Not just the visible stuff either. This project has new electrical, plumbing, HVAC, insulation and so much more of the not so sexy but very important mechanical aspects all replaced too. It will end up being just like a new home that incorporates the charm of the original build but brings the whole project solidly in line with the modern demands today's buyer has. We have been watching this project unfold now for over a year which tells you this is no fix and flip. This is a well thought out vision of greatness in a property that had the bones and location but needed to be completely reborn. And reborn it is going to be! We are excited to watch the final push to get this one ready. Its going to be a good one! Price will be $2,275,000. Serious inquires can be accommodated early as we can get you in for a sneak peek so call us if you are looking in this price range. Nina:Just to add to what Sharon has said, we have watched this property's remodel unfold over the year and I am thrilled that we are finally approaching the time to bring it on the market. There are times I become attached to a property and this is definitely one of them. The owner is still in the completion process but we are able to show it anytime if you are interested. We are happy to walk you through what is yet to be done and the materials that will be utilized. I truly think you will appreciate the incredible views, the location and the quality of the remodel.
Today's rates today from Guy Rivera at Guarantee Mortgage can be seen by clicking here. Guy made some magic happen just this week for some clients that otherwise could not get approved. Like I always say, if Guy can't do it, nobody can.
New Listings (2) (click here for the list)
3421 Numancia Street, Santa Ynez (2/2 on .15 of an acre) 575K Sharon: Numancia is in several sections, as are many streets in Santa Ynez. It can be confusing! This is the section by the park (take the left off of Edison just before the hardware store). Proximity and direct access to the park is cool for kids, adults and furry friends alike. Walking distance to everything awesome in downtown Santa Ynez. Nina: Super cute house in a park side location, making it feel like you have lots of room to roam. The interior is light and bright with updated finishes creating easy living. Listed Lynn Golden of Village Properties
Brinkerhoff Avenue, Santa Ynez (20+ acres, land only) 800K Sharon: Looks like several potential building sites on this one which is somewhat unusual in Woodstock. Big views from the tops and my personal favorite, the coziness and setting opportunities of the bottom land. Near the Sedgwick preserve for proximity to some of the most well protected and cherished lands in the area. Nina: Accessible Woodstock Ranch 20 acre parcel priced around $38,797 per acre. Listed by Micah Brady and Jennifer Nation of Sothebys
Price Reductions (2) click here for the list
310 2nd Street, Solvang (3/2 + 1/1 on .23 of an acre) Sharon: Was 825K with a new price of 785K. Listed by Patty Cotter of Village Properties
550 Aebeltoft Way, Solvang (3/2 on .24 of an acre) Sharon: Was 825K with a new price of 799K. Listed by Rich Condit of SYV RE
Under Contract (1)
251 Fairway Drive, Solvang (2/2 on .62 of an acre) 596K Sharon: Alisal Ranch country club living on leased land. Nina: Classic Alisal living in a nicely remodeled home.Listed by Susan Beckmann of Sothebys
Sold (2) click here for the list
2079 Village Lane, Solvang (2/2 condo) Sharon: Listed at 410K and sold final for 400K and one of the nicest units of its type to sell recently in this development. Only 21 days on market and about 98% of asking price. These units have attached garages and a community pool. Nina:Beautifully done Village Lane home in a single story corner unit. Listed by Patti Cotter of Village Properties
3490 Tivola Street, Santa Ynez (3/2 on .51 of an acre) Sharon: Listed at 739K and sold final for 729K. Only 31 days on market and capturing 98+% of asking. Nina: The new owners must be thrilled! This is a really special property with mature gardens in a creek side setting on an oversized lot close to town. Wow, that was a mouthful, but it really does offer so much. Listed by my friend and former student Rhoda Johhson of BHHS. Go Rhoda!
**Click on each hyperlink to see the listing office related to each property. Property links may not open if you are using Internet Explorer as your browser. Transactions noted here were completed by myself and other Realtors. I clearly identify those that I participated in. The hyperlink to each listing shows the listing office name if you would like to contact them directly. If you aren't already, please ask to be on my Daily Real Estate Update email list to receive the complete blog post with pics and aerials sent to you daily via email versus you having to remember to check my website or Facebook. Due to recent copyright issues, pics only appear on the email version. The identity of those on my list is not shared and I don't spam anyone. My daily updates are not a complete list of everything that happened today but instead events the general reader might find interesting or items you need to know to make good decisions. These informational items are also readily available on a variety of other sites. Readers should consult other venues of information gathering to find out more or to complete their information gathering efforts but this is a great place to start and I write every day Monday through Friday letting you know what I know. I will NEVER send you a request to wire money. If you ever receive a request from me to wire money, it is a scam. Do not reply to it but do forward it to me at scurrie@bhhscal.com for further investigation by our company tech staff. Real estate related wire fraud is rampant worldwide.
Sharon Currie Realtor License #01357602 805.448.2727 scurrie@bhhscal.com
Nina Stormo Realtor License #01341678 805.729.4754 ninastormo@bhhscal.com
Berkshire Hathaway Home Services BRE#01317331
Physical: 2933 San Marcos Ave #102, Los Olivos
Mailing: P O Box 778 Los Olivos CA 93441

w: Daily Blog www.sharoncurrie.com
Visit me on Facebook https://www.facebook.com/SYVRealEstate/
Read Zillow Reviews by Clicking Here
Wire Fraud Advisory: Never wire money to a source you have not confirmed verbally with the recipient. Wiring instructions will never be sent by me. Only accept them from a reliable confirmed source.