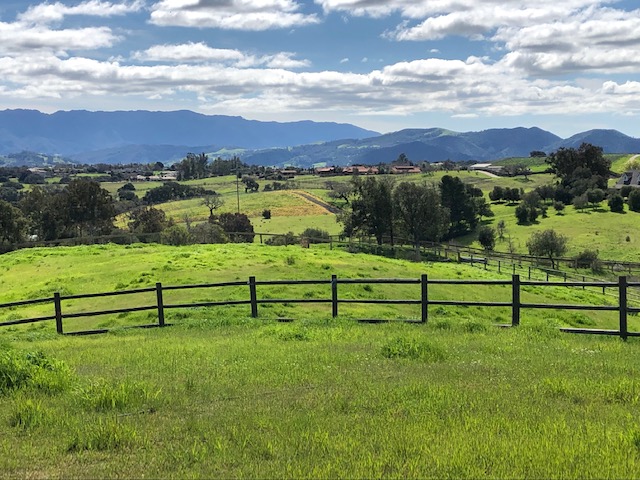 More rain! Yahoo! Have you driven by Cachuma lately? Holy moly! It looks full! Here in the valley, we have been transformed into Ireland! The above pic taken yesterday (not photo shopped) from my new listing coming this week www.2130Adobe.com. Its a good one!
Rental
325 Bell Street, Los Alamos (1/1 on .21 of an acre) $1,300 On your marks, get set, go! Rentals are hard to come by especially at this price point. Super cute too. Listed by Oliver Fries of Paloma Realty Partners.
New Listing
4380 Aquarius Road, Lompoc (3/2 on .18 of an acre) 460K I don't always report on Lompoc but when I see something special, I always like to give my readers a cost or investment alternative opportunity in this nearby and, in my opinion, up and coming location. We have certainly seen prices rising here. As a commuting option for Santa Barbara and Santa Maria employees, Lompoc is a good choice for those seeking more bang for their buck. This one is a good case in point. Over 1700 square feet of living space with some nice upgrades and no location challenges. In fact, Vandenberg Village is my #1 choice for investing or living in Lompoc. This one is especially nice. Check it out. Listed by Mason Frakes of Champion RE.
New Listing
800 E Highway 246, Solvang (turn key winery) $5,749,000 Considering the cost of planting new vineyards these days, this one is looking pretty darn good. Planted, producing and excellent drive by exposure with easy to get to location. A lot of flat and usable. 11 planted acres with an additional 28 acres available for expansion. 9,200 square foot building on site with a permit for 40,000 cases annually. Existing tasting room is permitted for 7 days a week and 12 events per year. Remodeled house, barns and more round out the owner or management usability of this offering. Convenient location make the tourist or wine patron draw even better. Very pretty out here too with the river on one side and the iconic Deodar Cedar lined section of highway lending an iconic flair on the other. Take the guess work out by purchasing an already functioning and money earning winery with permits already in place. For those seeking an entrance into the wine world, it doesn't get much easier than this. Listed by Claire Hanssen and Brett Ellingsberg of Berkshire Hathaway.
Under Contract
2829 San Marcos Avenue, Los Olivos (4/4 on .16 of an acre) 714K Only on the market this listing period for 14 days. Listed by Jodi Williams of Century 21.
Under Contract
234 Valley Dairy Road, Buellton (5/3 on .15 of an acre) 719K Listed by Christine Lash of Grand Ave RE.
**Click on each hyperlink to see the listing office related to each property. Property links may not open if you are using Internet Explorer as your browser. Transactions noted here were completed by myself and other Realtors. I clearly identify those that I participated in. The hyperlink to each listing shows the listing office name if you would like to contact them directly. If you aren't already, please ask to be on my Daily Real Estate Update email list to receive the complete blog post with pics and aerials sent to you daily via email versus you having to remember to check my website or Facebook. Due to recent copyright issues, pics only appear on the email version. The identity of those on my list is not shared and I don't spam anyone. My daily updates are not a complete list of everything that happened today but instead events the general reader might find interesting or items you need to know to make good decisions. These informational items are also readily available on a variety of other sites. Readers should consult other venues of information gathering to find out more or to complete their information gathering efforts but this is a great place to start and I write every day Monday through Friday letting you know what I know.