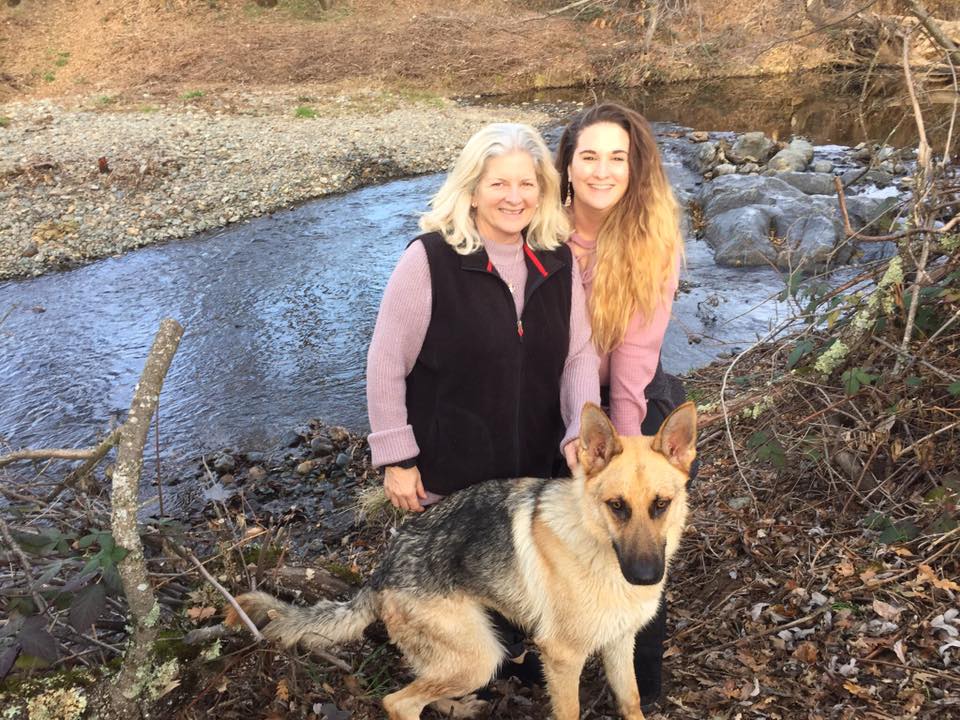 Well I'm finally back from my holiday centric vacation just in time for yet another holiday! The end of the year is upon us with New Years being just days away. Actually I haven't taken a real vacation in more than 15 years, pretty much since I became a licensed agent. It felt weird and good at the same time. With the fire in Santa Barbara and the Christmas holiday, there was not much going on so it was the perfect time to be gone and not miss anything. A great time was had by all my family as we gathered at our vacation home in northern California. Above is a photo of me and my daughter Seana with one of our many dogs, Maus (and yes, he is puppy hell on wheels!). We had just taken the dogs swimming in the creek which runs at the bottom of my property. Its 7 hours away so I don't get to visit as often as I would like but the rest of my family use it all the time. It is a well loved and magical place. We had the time to count them ..... 60 oak trees on my parcel. Believe me, the tree trimmers up there love me! That's a lot of oak trees! Some babies, some ancient. Here is a hint I learned .... in northern California, buy in the oaks. Oaks don't live in snow. I can drive to snow in about 10 minutes but not a flake lands on my property i.e. no snow plowing, shoveling or melting. In fact ski season is under way in the Tahoe area though I didn't see a whole lot of the white stuff on the ground. I did however drive by Boreal and it was packed ... guessing man made snow in case you are looking for some. Whatever you get up to this holiday, skiing or otherwise, have fun! I'll be back here on Tuesday when all the offices open back up with more news. Stay safe out there. Happy New Year!
New Listings since I left. Click here. Total of 5. Check out Irelan and Sharon for exceptional values in the affordable sector.
Price Reductions click here. Total of 2.
New escrows and pendings. Total of 14 wow! 2269 Sunrise in Solvang is spectacular, like new and out of this world unique, selling to my own clients.
Solds Total of 11. Wow again! 1075 Tyndall in Santa Ynez was a listing in my own inventory and sold to my own clients. Both parties got exactly what they wanted. Another happy ending!
**Click on each hyperlink to see the listing agent related to each property. Property links will not open if you are using Internet Explorer as your browser. If you aren't already, please ask to be on my Daily Real Estate Update email list to receive the complete blog post with pics and aerials sent to you daily via email versus you having to remember to check my website or Facebook. Due to recent copyright issues, pics only appear on the email version. The identity of those on my list is not shared and I don't spam anyone. My daily updates are not a complete list of everything that happened today but instead events the general reader might find interesting or items you need to know to make good decisions. Readers should consult other venues of information gathering to find out more or to complete their information gathering efforts but this is a great place to start and I write every day Monday through Friday letting you know what I know. Transactions noted here were completed by myself and other Realtors.
Sharon Currie | Realtor BRE#01357602
Berkshire Hathaway Home Services BRE#01317331
Physical: 2933 San Marcos Ave #102, Los Olivos
Mailing: P O Box 778 Los Olivos CA 93441
p: 805.448.2727 f: 805.233.6461
e: sharon@sharoncurrie.com
w: Daily Blog www.sharoncurrie.com
Visit me on Facebook https://www.facebook.com/SYVRealEstate/
Read My Zillow Reviews by Clicking Here
Wire Fraud Advisory: Never wire money to a source you have not confirmed verbally with the recipient. Wiring instructions will never be sent by me. Only accept them from a reliable confirmed source.