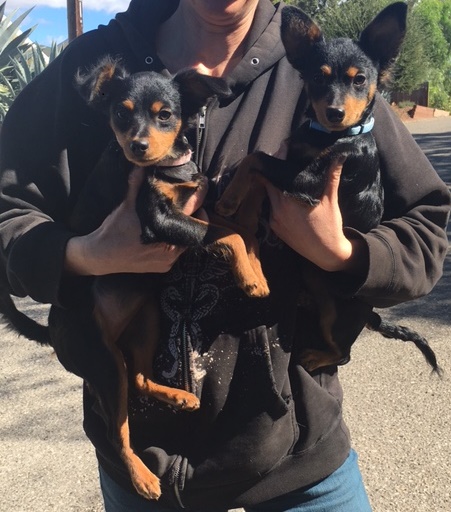 Shameless as it may be, here is my once every few months plug for a homeless pet that may just make your life whole. These puppies are just 5 months old and full of life. Actually 5 months is perfect. A lot of the puppy worries are done already and they are poised for the next phase of their learning. Adopted separately or together. The one on the left is a female, the one on the right is a male. They are very different from each other. The owner really wants to find a forever home for the puppy on the left but will adopt them out together if someone wants them both. The female is absolutely adorable. You don't even have to wash your face in the morning because she will happily lick you all over. Just a bundle of love and trust. She is a complete happy delight and quite the squirmy wormy trying to see everybody and everything at the same time. Pure joy in a fur coat. A loving beating heart with fur on it. The little boy is a bit more studious and an observer of everything. While not as effervescent, he makes up for that with his powers of observation, loyalty and steady love. Such a rock for one so young. A great pair or wonderful companions individually. They have both been raised with children and large dogs. They are simply too hard to resist. To see them is to love them. All shots are done. I am offering to pay for their spay or neuter fees to anyone that mentions this blog. Yes, they are free to a good home. Emphasis on the word "good". Call me or my friend Rachel who so generously gives her time and love, rehoming deserving and special pets all year long. You can reach Rachel by call or text at 805.451.9990. Somone out there has room in their life for a snuggle bunny .... or two.
New Listing
893 Alisal, Solvang (3/3 on .46 of an acre) 799K Corner of Alisal and Viborg, this parcel offers a well maintained palette from which to do some magic. The house itself has had some tender loving care over the years and is in excellent condition with a very good floor plan. The parcel has been rid of old landscaping and is ready for today's more drought tolerant choices. Easy walk into town over Alisal or take the stroll down to New Frontiers Market or Nielsens Market and alternatively, Fredensborg Canyon and Hans Christianson Anderson Park. A wonderful location for convenience, strolling and access plus sited in pride of ownershop Sunrise Village. Exceptionally well priced for the neighborhood. See it.
New Listing
3384 Willow, Santa Ynez (3/2 on .46 of an acre) 800K
Price Reduction
2903 Buckboard, Solvang (main house + legal second unit on .91 of an acre) Was $1,075,000 with a new price of $1,050,000.
Under Contract
1721 Calzada, Santa Ynez $2,495,000
119 Sharon Place, Buellton 550K
Sold
3109 Fairlea, Santa Ynez (5/4 on .89 of an acre) Listed at $1,250,000 and sold final for $1,167,500. Completely remodeled in the highly sought after Skyline Park neighborhood.
**Click on each hyperlink to see the listing agent related to each property. If you aren't already, please ask to be on my Daily Real Estate Update email list to receive the complete blog post with pics and aerials sent to you daily via email versus you having to remember to check my website or Facebook. Due to recent copyright issues, pics only appear on the email version. The identity of those on my list is not shared and I don't spam anyone. My daily updates are not a complete list of everything that happened today but instead events the general reader might find interesting or items you need to know to make good decisions. Readers should consult other venues of information gathering to find out more or to complete their information gathering efforts but this is a great place to start and I write every day Monday through Friday letting you know what I know. Transactions noted here were completed by myself and other Realtors.
Sharon Currie | Realtor BRE#01357602
Physical: 2933 San Marcos Ave #102, Los Olivos
Mailing: P O Box 778 Los Olivos CA 93441
p: 805.448.2727 f: 805.233.6461
e: sharon@sharoncurrie.com
w: Daily Blog www.sharoncurrie.com
Visit me on Facebook https://www.facebook.com/SYVRealEstate/
Read My Zillow Reviews by Clicking Here
Wire Fraud Advisory: Never wire money to a source you have not confirmed verbally with the recipient. Wiring instructions will never be sent by me. Only accept them from a reliable confirmed source.
CONFIDENTIALITY NOTICE: This e-mail message and all attachments are intended solely for the use of the intended recipient or entity and may contain legally privileged and confidential information. If the reader of this message is not the intended recipient, you are hereby notified that any reading, disclosure, dissemination, distribution, copying or other use of this message or any attachments is strictly prohibited. If you have received this message in error, please notify us immediately by replying to the sender of this message and delete this message and all attachments, including all copies or backups thereof, from your system.